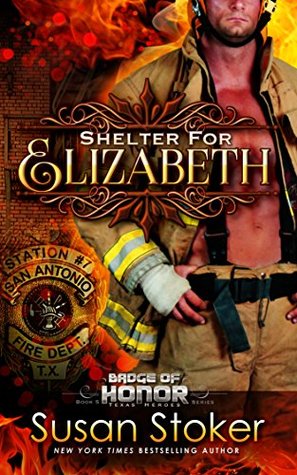 (Image from Goodreads)
I've become an avid reader of all Susan Stoker's books. Her SEAL of Protection series is one of my favourite series of all time, and I'm thoroughly enjoying Badge of Honor: Texas Heroes. One of the latest releases for Stoker, and the Badge of Honor series, is Shelter for Elizabeth, and I have to say it's probably my favourite out of the 5 available books.
We first meet Elizabeth (Beth) in Protecting Summer from the SEAL of Protection series, having been kidnapped by Ben Hurst for the only reason of showing Summer the torture he plans on doing to her. Saved by Mozart and the rest of the SEAL team, Beth has struggled with Agoraphobia as she tries to come to terms with the horrific nightmare she had to endure.
In Shelter for Elizabeth, we meet Beth in Texas, where she requires a bit of aid from the local fire station to put out an oil fire. This becomes an important moment in Beth's life, and for more than one reason. It's the first time she's entranced by fire, the first time she notices a difference in her anxiety and control. We see this throughout the rest of the book, an important aspect that ends up pushing Beth to get the help she knows she needs.
It's also the moment she meets Cade. Brother of Penelope, a friend and fellow member of the support group she's a part of (Also the very same Penelope from Protecting the Future, as well as popping up in other books along the way) Cade is a fireFighter from a local station that is part of the group that comes to her aid. He immediately recognizes the panic when a colleague tries to get Beth to leave her apartment, and immediately helps calm her down. He quickly becomes an important factor in Beth's life, and throughout the book, a crutch that she ends up relying on.
Not that last fact should make you want to be annoyed. Is this just another story where the woman is relying on the man to solve all her problems? To fix the character? Absolutely not. I don't think any of Stoker's female characters are written in such a way. Yes, there are times when Beth depends on Cade. But there are also times she depends on Penelope. It's a different dependence than normal, needing to feel that safety in order to leave her home, to feel safe and stable. It's not a crutch she wants, though. She doesn't want to be dependent on anyone, but she recognizes that she needs the help. And she accepts it from the two people she trusts more than anything. Cade doesn't end up being the character that fixes everything. He's a part of that fix. A tool almost. But Beth sees that she's spiralling downwards, that she needs the help, and she takes it upon herself to seek it out. She wants to get better, she wants to try and help herself, not have to depend on anyone else if she can help it. But she can't do it alone. Not many people can do it alone. It never weakens her, however, and that's what's so powerful about this story.
Have I mentioned yet how much I love how Stoker is about to connect all of her stories. Each series, each book, is connected to one another. It might be slight mentions. It might be a character popping up, even just on the phone (Tex from SEAL of Protection has to be the most widely used character at this point, his hands are in just about everyone's pot). In Shelter for Elizabeth, we again get Tex making an appearance after it's discovered that Beth has a talent for hacking. The two go back and forth, with Tex offering her a lucrative job, one that utilizes her talents and gives her a meaningful use of them. Later, we see Summer and Sam (Mozart) as Beth faces that terrifying day head on. Parting on friendly terms, I wouldn't be surprised if we don't hear about Beth and Summer's growing friendship somewhere down the line.
There's so much you can say about Cade, and even Penelope, in this book. But the real star is Beth's transformation and how she handles every struggle, every issue that might come up. It hasn't been easy for her, but she's a fighter. She fights for her life back, she fights for her health. Her phobia may never go away, but she's learning to live with it, to help herself in stages. That's what I love most about this book, and this character.
My Rating: 5/5
Goodreads Rating: 4.42/5
Check out more from Susan Stoker here.
And check back soon for a series review of SEAL of Protection